Photo Tips
>

Move cars, bikes and other moveable objects

to keep the focus of your photo solely on your home.

>

Take your photo during daylight,

preferably with the sun at your back.

>

Take your photo straight-on and fill the frame

with your home in landscape format.

>

All photos should be high quality.

A minimum file size of 300 KB to a max of 2 MB will ensure good results. Accepted files: .jpg, .jpeg, .gif, .png.
Example: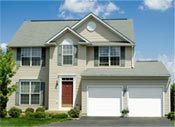 Durability and Long Lasting Beauty
Upload a photo of your home
and we will show you its potential! ($40)